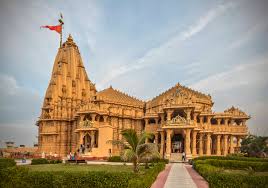 Mechwat Technologies Pvt. Ltd. is a leading Bio Toilet Manufacturers and Exporter . Recently, Mechwat Group is going to export the Bio toilet for Dubai, Singapore and Congo Country. Major application area of Exported Bio Toilet are  Construction Site, Labor Colony, Municipality, Public Palace, School Sanitation Project and CSR Project.  click on what is a Bio Toilet ?  for detail information of Portable BioToilet.
Idea's CSR vision is to actively contribute to the social and economic development of the communities where we operate. In so doing build a better, sustainable way of life for the weaker and marginal sections of society and raise the country's human development index. The focus areas are Education, Health care, Sustainable livelihood, Infrastructure development, and espousing social causes.
To Promote the preventive health care and improving sanitation at Public Palace & Temples, Idea Cellular Ltd. has installed the Biotoilet in various location of Shree Somnath Trust at Prabhas Patan. Detail location of Biotoilet Project Installed under CSR Activity of Idea Cellular Ltd are as :
1] Shree Gita Mandir, Near Shree Triveni Sangam, Somnath-Gujarat.
2] Bhid Bhanjan Mandir, Bhidiya Site, Somnath-Gujarat.
3] Bhatiya Dharmshala, Bhatiya, Somnath-Gujarat.
Biotoilet installation work is carried out by  Mechwat Technologies Pvt. Ltd. on behalf of Idea Cellular Ltd.  Biotoilet installation at Shree Somnath Trust created awareness in public about sewage water treatment and utilization for irrigation purpose.  Biotoilet treated water utilization for irrigation promote the organic farming and nutrient water stability in  agriculture land.
Introduction of BioToilet
Bio-Toilets are a super structure of toilet with anaerobic biodegradation of  organic waste by unique microbial consortium  and works at a wide temperature range.  Organic solid waste convert to Gases Like Methane, Carbon Dioxide and Digested organic nutrient contain residual water which will be further utilize for agriculture propose or else treated further for secondary treatment known as Reed Bed System.
Main Objective of Biotoilet Application for Human Waste Management Are :
No Energy Dependence.
Eliminate the maintenance of soak pit work & discharge of sewage waste.
Prevent the soli erosion and increase the ground water stability by eliminating the sulphate gases generation and water utilization for gardening/irrigation.
To promote the organic technology for waste utilization
Salient Future of  Biotoilet :
Disposes human waste in a 100% eco-friendly manner.
Continuous biological process which leads to maintenance free of sewage treatment process.
Does not require any septic tank or sewage collection facility.
Existing septic tank can be replace by Bio-digester in existing public & domestic toilets.
Routing chemical do not harm the system.
Independent on the limited and costly conventional energy resources.
Bio-Culture Configuration :
Bio-culture additives are Feeding micro-organisms(e.g. bacteria) and macro-organisms(e.g. plants & animals). Its extract of Ascophyllum nodosum  which one of the most nutrient rich vegetables on the planet containing life sustaining elements like organic iodine and organic germanium plus complex compounds like oligo sachharides and poly uronica acids-in additional  full range of vitamins, minerals and trace elements at levels way above those  of any land plants.
Advantages:
Bio-Availability : Nutrients additives are chelated, colloidal, optimally balanced and easily absorbed.
Bio-Activity : These additives are natural and superior bacterial culture media, restoring  microbiological life too organism and eco-systems. When bacterial culture is exposed to nutrients, bacteria begin to free feed & thrive , producing  a host of enzymes which then continue feeding and speeding biological processes. This bacterial enzyme activity  supportsand protects life in complex and profound ways. Bio-Culture works with naturally occurring , conventional organisms, aerobic and anaerobic. These additives are true pro-biotics, dramatically improving digestion efficiencies and decomposition rates through the entire digestion/decomposition process – completing these processes while eliminating odours with biological ion exchange capacity.
Protecting organisms – Naturally occurring alginates + trace elements protect organisms from environmental toxin-including protecting the health of the sensitive, beneficial families of bacterial with living systems. Ascopyllum nodosum is proven to  sequester heavy metals without further processing or release. Our product actually blocks heavy metals  in soils and waste product preventing  assimilation plants and animals.
Design Qualification of  Biotoilet for Idea Cellular  Ltd.
| | | |
| --- | --- | --- |
| S.No. | Features | Detail |
| 1 | Size (W x D x H) in Ft. | [(3.5 x 3.5 x 7.5)Ft. x  3 Nos  x  2 Nos |
| 2 | Material to be used | 12mm  Solid PVC |
| 3 | Thickness of Sheet | 12mm Solid PVC |
| 4 | Moulded /Angle Channel based ? | Angle Channel based |
| 5 | Biotoilet Basement | 1000 mm Civil Platform with Two Step Stair and Tiles Work from ground level |
| 6 | Biotoilet Ceiling | 12 mm Solid PVC. |
| 7 | Side Wall of Biotoilet Structure | 12 mm Solid PVC t with MS Square Pipe Fittings Work; Water proofing silicon fittings |
| 8 | Electric work scope | One Lamp; Switch Board for Exhaust fan & Lamp in each block |
| 9 | Ventilation System |  250mm Crompton Exhaust Fan in each block |
| 10 | Door | 24 mm solid pvc door with frame and Europa make door lock |
| 11 | Door  kit | Europa make door lock  and SS Hinges included in each block |
| 12 | Water Line Piping | UPVC Piping with required point connection work and piping connection of water tank |
| 13 | Drain Line Piping | PVC Piping drain work for each block and connection with biodigester. |
| 14 | Water Tank | Triple Layer HDPE 2000 Liter Tank Included at each location |
| 15 | Water Tank Stand | [ 35 x 35 x 5 ] mm MS Angle Stand having [ 4 x 4 x 6] Ft Height at each location |
| 16 | WC | 1 Nos in Each Block ;Western WC; MOC-Ceramic |
| 17 | Toilet seat cover | 1 Nos in each block |
| 18 | Flush Tank | 15 Liter flush tank; MOC – HDPE |
| 19 | Urinal | Wall urinal ; MOC-Ceramic |
| 20 | Wash Basin | 1 Nos in each block |
| 21 | Two way bib cock | 1 Nos SS Two way bib cock in each Block |
| 22 | Health Faucet | 1 Nos  Health faucet in each block; MOC-CP |
| 23 | Angle Cock | 3 Nos in each block ; MOC-SS |
| 24 | Pillar cock | 1 Nos; MOC-PVC |
| 25 | Door | 25 mm PVC Foam Sheet door along with 25 mm Square Pipe coating |
| 26 | Roofing | 25 MM MS Square Pipe frame along with both Side 12mm sheet fitting |
| 27 | Leakage Proofing | Silicon fitting work included |
| 28 | Piping Work | UPVC & PVC Piping Work |
| 29 | Biodigester | 4000 Liter in Brick Masonry work |
| 30 | Bioculture | 3 Liter to 5 Liter |
| 31 | Mirror | Mirror cabin in each block |
| 32 | Warranty | As per CSR Policy of  Idea Cellular Ltd. |
Biotoilet Installation In Various Location of  Shree Somnath Trust By Idea Cellular Ltd. Are As :
1] Bio Toilet Installation At Shree Gita Mandir, Near Shree Triveni Sangam, Somnath-Gujarat.
2] Bio Toilet Installation At Bhid Bhanjan Mandir, Bhidiya Site, Somnath-Gujarat.
3] Bio Toilet Installation At Bhatiya Dharmshala, Bhatiya, Somnath-Gujarat.