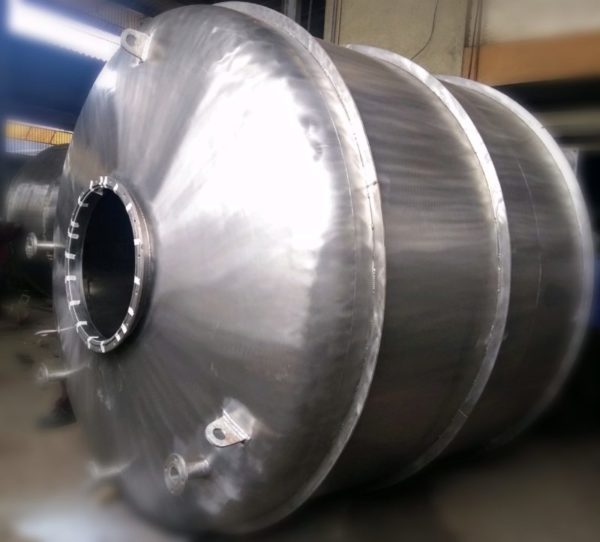 Mechwat Technologies Pvt Ltd. are Stainless Steel Storage Tank manufacturer in Ahmedabad, Gujarat, India.
We had designed, manufactured and supplied Stainless Steel Water Storage Tank At World's Tallest Statue of Lord Shiva in Nathdwara, Rajasthan, India to Shapoorji Pallonji & Company Pvt Ltd. for Miraj Group's landlord project.
We are also engaged with various industries for providing solution for storage of liquid gases and solids (Water, Syrup, Oil, Sugar, Powder, been and etc.)
TECHNICAL DETAILS OF THE TANK
Title: SS Water Storage Tank
Category: High purity stainless steel processing equipment
Description of SS Water Storage Tank: SS316L Vertical Oriented Heavy Duty Storage Tank-10000 Liters Capacity with accessories.
Type of  Tank: Heavy Duty SS Water Storage Tank
Capacity: 10KL Stainless Steel Water Tank. (MECHWAT is also manufacturing vide range of Stainless Steel Water Storage Tanks from 100 to 50,000 Liters.
M.O.C. of Stainless Steel Tank: AISI 316L (MECHWAT manufacturing various type Tanks for example AISI 304, AISI 316)
Surface Finish of Stainless Steel Tank: Internally Electro polished and externally matt finished (But MECHWAT Providing customized surface finishing facility like Matt Finish, Mirror Finish, Brush Finish, 2B Finish, Powder Coating and etc.)
Also view another stainless steel high purity processing equipment: Stainless Steel Silo & Stainless Steel Hot Water Tank